A ground-breaking new report has warned Western governments that China is in a prime position to dominate critical future technologies in a vast array of fields after establishing a "sometimes stunning" lead in research and development.
The Australian Strategic Policy Institute (ASPI) "critical tech tracker" found China is beating the United States in 37 of 44 technologies which are likely to propel innovation, growth and military power in coming decades, including artificial intelligence, robotics, biotechnology, advanced manufacturing, and quantum technology.
The report says the US is the leading innovator in only seven technologies — including quantum computing and vaccines — and ranks second to China in most other categories.
While a "second tier" of countries — including India, the United Kingdom, South Korea, Germany and Australia — have also developed advanced research capabilities, they still lag far behind the two great powers.
ASPI's Jamie Gaida, who co-authored the report, said while China's research edge did not translate into technological superiority right now, Beijing had built the foundations to position itself as the world's leading science and technology power.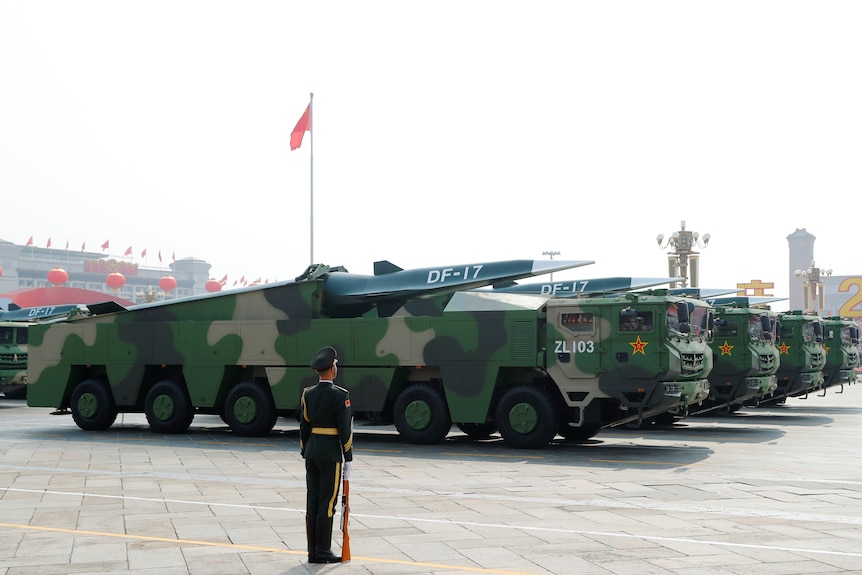 "We were pretty surprised by how dramatic the lead is in some of these technologies," Dr Gaida told the ABC.
"In some of these technologies we are seeing China is publishing approximately 65 per cent of the world's top research within that technology area.
"It's striking. It's really profound.
"Current research doesn't directly translate to current defence capability or manufacturing capability, but surely if you want to be in the best position to be in the lead in say five years' time — well, of course you want to be in the forefront of innovation and breakthrough research."
China attracts top level scientists, report finds
The report shows China is particularly dominant when it comes to research for the defence, security and space sectors, often producing more than five times as much high-impact research as its closest competitor — which is almost always the US.
For example, China generated just under half of the top research papers into advanced aircraft engines and hypersonics, and hosts most of the institutions leading development of the technology.
Last year, China surprised US intelligence agencies when it tested a nuclear-capable hypersonic missile which circled the globe, demonstrating advanced capabilities in the technology.
Chinese institutions also dominate research into drones, autonomous systems, advanced optical systems, artificial technology and machine learning.
Dr Gaida stressed that the tech tracker did not capture classified research conducted by governments in private, or research conducted behind closed doors by private companies.
The Biden Administration has also moved to ramp up expenditure in advanced manufacturing, and last year passed the CHIPS act which will plunge more than $US200 billion ($296 billion) into trying to ensure the United States regains its lead in manufacturing semiconductor chips.
But the report warns that China's clear lead in public research provides evidence that Beijing could establish a "stranglehold" on global supply chains for critical technologies in the future, handing it powerful leverage and a clear technical edge.
It also says China's government has successfully attracted top scientists specialising in critical technologies, and that Australia and its allies need to rapidly scale up research and development in order to catch up.
"Now is the time to move, essentially, and we don't shy away from the fact this will be expensive," Dr Gaida told the ABC.
"This will require a very significant step up in our research and development capability."
Source : ABC